World Class Mobile App Developer | WINKLIX
WANT TO KNOW HOW TO WIN IN MOBILE APP DEVELOPMENT MARKET ?
The WINKLIX app development team has achieved a good rank in android and ios app development , as we are master in art of developing android and ios app . With our endless and creative development process , our young team is able to deliver you the rock awesome mobile application , that offers a unique user experience time after time .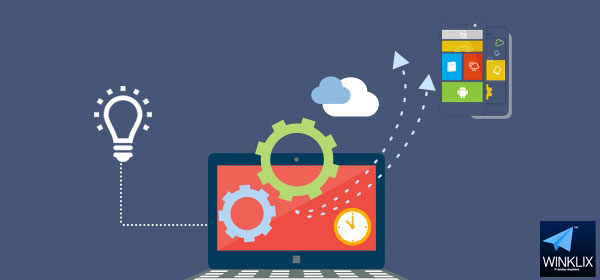 WHAT SET'S A WINKLIX APP APART ?
It really does not whether you are an startup or an entrepreneur , we begin the development process in same way , keeping in mind " How can your app become the interesting part of someone's day to day life " . We don't want to give one time product , that finishes over time , rather we want to execute product in every step , from blueprints to wireframe , testing , debugging and finally bug fixing . Your arrival in marketplace should just be the beginning of the journey. Our foremost app right after the app launch is increasing the daily users , stopping subsequent funding on app , and climb the app to the ladders of success .
You can find the best app development company in India , New York , , & London – and wherever we find talent .
THE APP DEVELOPMENT PROCESS
For us , its not just the app , it's a solution , a life of a business and a gateway for user to explore endless ideas and opportunities . For this our mobile app design begins with focusing on user experience , how it feels and what mindset will it key in ??
We implement four step in app development process , thus allowing us rigorous feedback and testing during designing and development phase. We know specific requirement of Android and iOS platform . Our team try to take ongoing input from clients , testing and users feedback . The result of our endless efforts is awesome mobile app that become the daily routine of people's daily life . We have won plenty of award , and that's the reason the best app designer and developers come to work for Winklix .
THE FUTURE OF MOBILE APPS
The mobile economy is choking on at a thunderous pace. Truly, the scope for subsequent app to reinvent our lives is much. we've been there since the first days and focus on taking a wide ranging vision and making one thing tangible to put in users' hands.
From the origination of your plan to a totally built-out product that wins raves, we all know the way to repeat the most effective doable product. verify additional concerning our mobile app development method. Our team uses complementary data concerning aesthetics, responsive style, product integration, and empathic UX/UI.
When you want to share your unique idea to market , contact us . We will take every possible step in right way to make him a huge success , right from designing to development to giving it a final wave . So want to ride the mobile wave ? Say hello to Winklix